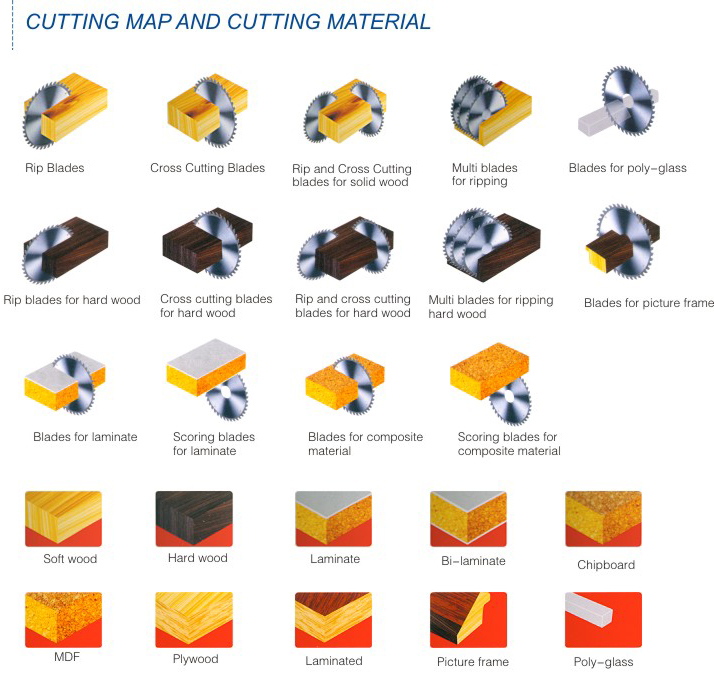 How to choose the saw blades
The Max. rpm of the saw blade should be changed according to the cutting diameter and the plate. Refer to the table 1. If the rpm is higher than the data, it will influence the performance and shorten the cutting life of the blade. The T must be higher than the teeth top, refer to picture 1, too much or less will lower the quality of the blade.
The working teeth number must be 3 or 4. Refer to picture 2. If less than 3, it will cause the vibration and can't get a smooth cutting face. If you want to cut thicker stock but use the same diameter blade, then choose the small number teeth blade. For the same diameter blade, if you want to cut thinner stock with longer cutting life, choose the larger number teeth blade.

Key
P=pitch
S=the thickness of the work piece
Z=teeth number
D=cutting diameter
remark:
The above formulation is used to for cross cut, or cutting MDF, plywood, chip board or laminate, not for rip.
How to choose the dimensions
1.P=Sx1.4142/3
2.Z=Dx3.14/P
3.Z=Dx8/S

How to use the saw blade
1.Make sure about the precision of the guide and principal axis.
2.The size of the flanges inside or outside must be same, the flanges must be clean, flat.
3.Clean the saw blade before using, make sure the contacting surface with the flange must be non-rusty and clean.
4.Make sure about the right running direction. Make sure the fixing is tight enough.
5.Re-sharpen the blade regulary. Do not use the blade immoderately. Make sure about the cutting angles during re-sharpening.
6.Clean the body and the tips before re-sharpening.
7.Choose the right grinding when re-sharpening (grain, hardness), make sure about the sharpness and prevent the tips from chipping. Use the cooling liquid.
8.When enlarge the bore, do not enlarge the bore size 20mm larger than before. Check the section run out at the diameter, prevent the blade from off-centre and then lower the quality. Do not enlarge the bore size on plank multi-rip saw.
9.Please use the CNC grinding machine to re-sharpen the blade. Do not use hand control, prevent from accident.